MOERKY MOERK
With more than a decade of experience in firing up dance floors around the country, Moerky Moerk has been honing his DJ craftsmanship since 2006.
Bridging the gap between bass music genres like few others, his super-charged selections already have been heard in and around the capitol.
Through a famed 3-year residency at Vienna's 'City Warriors' – playing in revered clubs and radio stations, such as the Flex, Fluc and FM4.
Taking matter in his own hands, he founded 'UK Menu' with three like-minded friends and DJs, throwing numerous heavyweight parties in the years that followed, before moving the base of operations back to Upper Austria in 2018.
No stranger to the international scene, his fiery sets have been heard alongside those of Culprate, Rico Tubbs, Gundam,, Soukah, JFO, Ed Rush, Andy C, El-B and Skelecta among others. Tons of heat in the record bag, Moerky Moerk's musical foundation is rooted in fat basslines, funky vocals and big beats.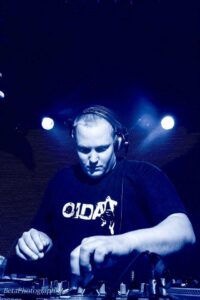 MAGWELL
Mario Fließer aka Magwell (ehemalig Mixtek) begann 2006 mit dem Auflegen. Nach Jahren des Übens gründeten sein Sippe und er die Crew Dotkor.
Um der alltäglichen Langeweile zu entfliehen und dem Wochenende wieder mehr Spannung zu verleihen begannen sie mit kleineren Clubreihen im Lefreak (Town Down, Shokk). Schlussendlich entstand High Contact.
Magwell spielte neben Größen wie Tantrum Desire, Black Sun Empire und The Prototypes.